Different cooling solutions are available depending on the product and individual requirements
---
TUNNEL TYPE
Inline tunnel cooling systems custom built to accommodate the baking oven band to allow passive cooling without the need to transfer the product from the baking belt. This system cools both the oven band and product which allows for faster baking and cooling times to be achieved, thus increasing production capacity.
The tunnels are manufactured in stainless steel clad thermal board material mounted on a steel support framework. Large access doors and hatches can be installed for easy access for cleaning out any product inside and also for maintenance of the internal components.
Various cooling capacities supplied relevant to the client's product and throughputs.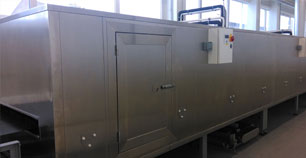 ---
FORCED AIR COOLING
Overband forced air cooling uses forced air fans to circulate either ambient air or chilled air to be passed over the product whilst traveling on the oven band below the fan housing hoods. The air is evenly distributed across the product by the air blowers quietly and efficiently, the blowers are speed controlled to be able to vary the cooling rate. This system is installed directly after the oven and again eliminates the need to transfer the product off the oven band. Where ambient temperatures are high, chilled air would be required.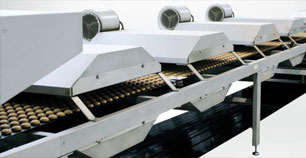 ---
Browse by: